Toppy Star Pony Hire is licenced and insured to do pony rides for children 3+ years and pony visits in both the public and private sector. Prior to an event or visit I will do a site inspection, discuss access arrangements and suggest suitable areas for the ponies to be situated.
A copy of my licence, insurance schedule and risk assessment will be provided on request. Copies of the policies and procedures can also be supplied if required.
PONY RIDES AT EVENTS :
Toppy Star Pony rides can provide a unique fund raising opportunity, or simply a wonderful experience to be shared, at school fayres, fun days, garden parties, weddings, fetes, galas and family celebrations.
We bring two ponies, one of which will provide rides and the other which will be available for petting. Both activities being fully supervised by Toppy Star Pony Hire. We also provide all equipment necessary and our own site decorations.
PONY VISITS :
Toppy Star Pony visits can be tailor made for your needs, be it fun, educational or theraputic.
Visits can involve observing and learning about, grooming or just enjoying the experience of being up close to our kind and gentle ponies.
We are happy to visit schools, nurseries, support units, play groups, care homes and rainbow/brownie/guide/beaver/cub/scout/groups.
Educational establishments can also liaise with us about Curriculum for Excellence Experiences and Outcomes if they require.
PONY EXPRESS SPECIAL DELIVERIES :
Why not surprise someone with a delivery, pony express style. We will happily make an appearance at special family occassions to present wine, flowers, balloons or a chosen gift to a loved one.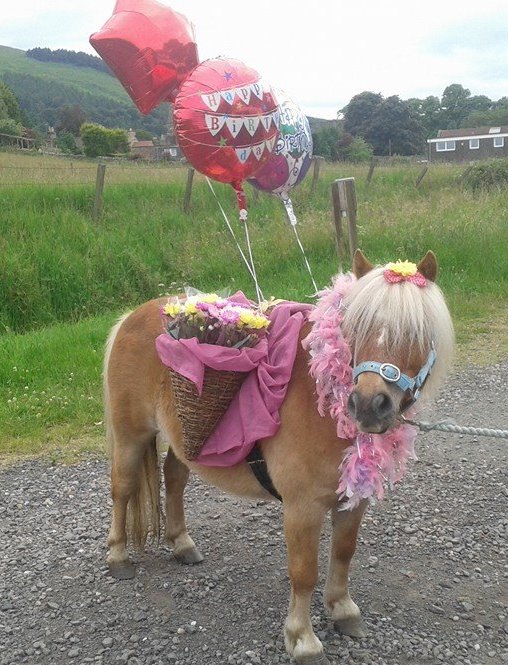 Jack delivering flowers, wine and balloons for a 40th birthday.
Pony Rides at events and visits are all individually priced. Feel free to contact me, using the information which can be found in "Contact Us" for a quote or further information.